Phil Collins said on BBC Breakfast in 2021 that he would be singing on stage with Genesis on their forthcoming tour, but that he would not be playing the drums. Nic Collins, his son, would be playing the drums instead. This wasn't only a means for him to include his son in the group. Collins revealed that owing to nerve damage from back surgery in 2015, he was physically unable to wield a drumstick with one of his hands. He said, "I'd love to but you know, I mean, I can barely hold a stick with this hand. So there are certain physical things that get in the way."
The tour dates were ultimately arranged after being postponed owing to the Covid-19 outbreak, but Collins felt it may be the last time the band played together before it ever started. He explained, "We're all men of our age, and I think to some extent, I think it probably is putting it to bed. I think yeah, I think just generally for me, I don't know if I want to go out on the road anymore."
Fast forward to March 2022, and Collins officially announced that he would no longer perform live on stage again. He was seated in a chair on stage, which is how he has had to perform during the tour due to health issues. He said into the microphone, "Tonight is a very special night. Of course, we're playing in London, and it's the last stop of our tour." The audience cheered, and Collins continued, "And it's the last show for Genesis." The audience booed and clapped at the same time, but the booing quickly changed to cheering.
After her dad's announcement, Collins' daughter, Lily Collins, wrote on Instagram, "Tonite marks the end of an era. To have witnessed this last show was truly the memory of a lifetime and an event I shall hold in my heart forever. Endlessly grateful doesn't begin to do it justice. So much love was left on that O2 stage and an even bigger amount shared between an audience who didn't want it to end."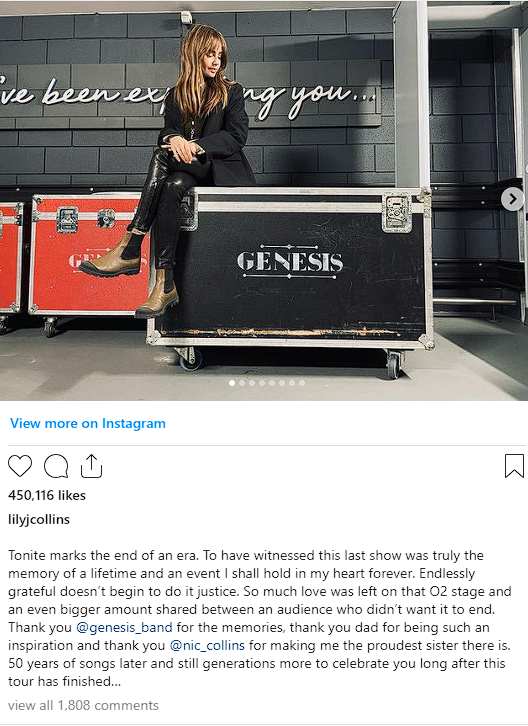 Do you think deciding not to tour was the right decision for Genesis? Do you think Collins' health issues, such as not being able to play the drums, played into this decision?