These delectable Almond Joy Cookies require just four simple ingredients, making them one of the easiest cookies you'll ever make. Packed with the delightful combination of sweet flaked coconut, chocolate, and crunchy almonds, these cookies will satisfy your cravings anytime.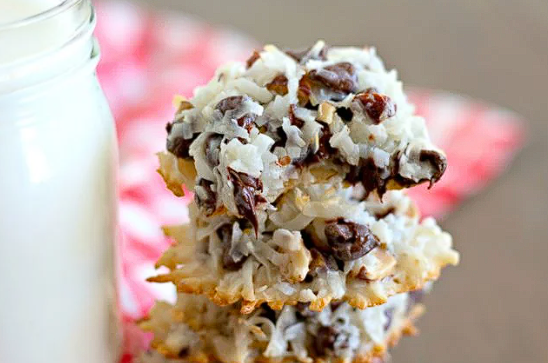 You might think this recipe is too good to be true—a soft, sweet cookie filled with chocolate chips, and made without eggs, flour, oil, or butter. But it's real! These incredibly easy 4-ingredient Almond Joy Cookies are a definite winner. All the ingredients can be conveniently kept in your pantry for months, ensuring you're always prepared to whip up a batch of cookies at a moment's notice.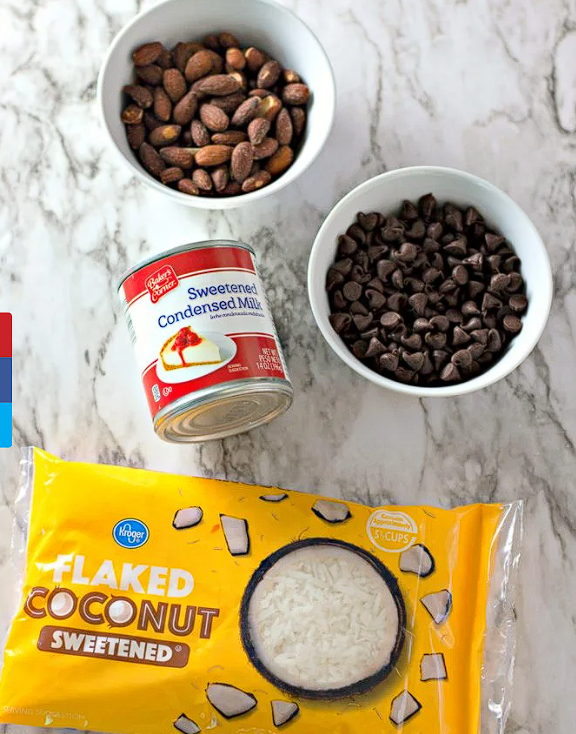 Let's take a look at the ingredients you'll need for these Almond Joy Cookies (exact measurements and instructions are provided in the printable recipe card below):
Sweetened flaked coconut: Look for this in the baking aisle of your grocery store.
Sweetened condensed milk
Roasted and salted almonds: You can find these in the nut section of the snack aisle. Simply lightly chop them before adding them to the cookie dough.
Semi-sweet chocolate chips: These provide the perfect balance of flavor and won't burn quickly like milk chocolate chips.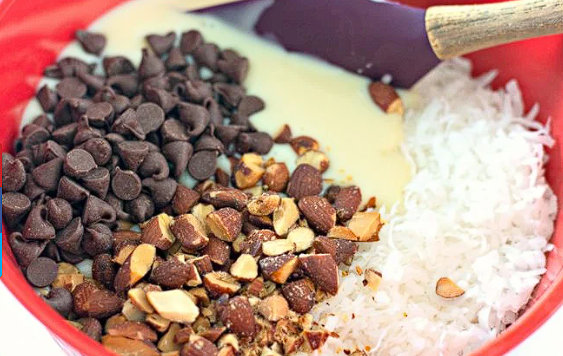 Making these cookies couldn't be easier! Simply mix all four ingredients in a large mixing bowl. Then, use a cookie scoop to drop the dough onto parchment-lined cookie sheets. Wet your hands with water and shape the dough into rounds, slightly flattening the tops. Bake the cookies at 325ºF for 12-14 minutes until the edges turn golden brown.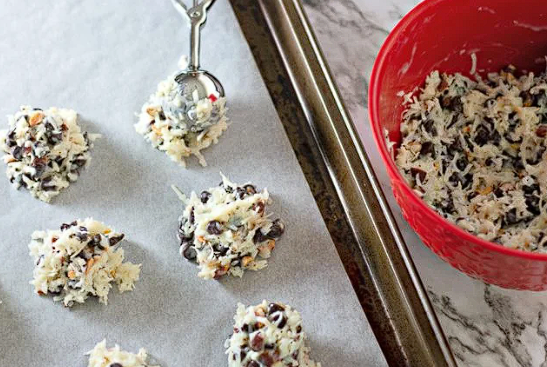 Once baked, allow the cookies to cool to room temperature on the cookie sheets before serving or transferring them to wire cooling racks.
If you'd like to experiment with variations, here are a few suggestions: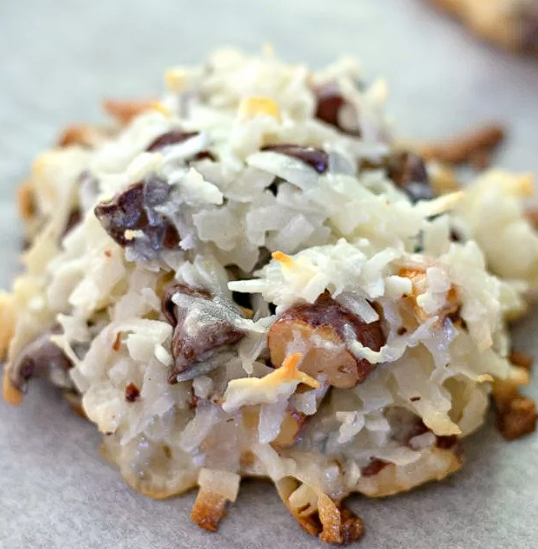 Chocolate drizzle: Melt 1/4-1/2 cup of semi-sweet chocolate chips in the microwave in 15-second intervals, then drizzle the melted chocolate over the cooled cookies for an extra burst of chocolate flavor.
Different nuts: Feel free to switch things up by using chopped walnuts or pecans instead of almonds.
Cherry twist: Add dried cherries to the cookie batter for a fruity twist.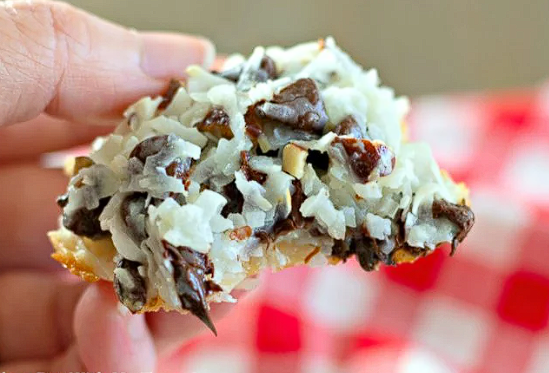 To store the cookies, place any leftovers in an airtight container, wrap them on a plate with plastic wrap, or use a zip-top bag. These cookies will stay fresh at room temperature for 3-5 days, ensuring you can savor their deliciousness throughout the week.
Almond Joy Cookies
Ingredients
1-14

once

bag sweetened flaked coconut

1-14

once

can sweetened condensed milk

2/3

cup

salted roasted almond

lightly chopped

2

cups

semi sweet chocolate chips
Instructions
Preheat oven to 325F. Prepare cookie sheets by lining with parchment paper.

In a large mixing bowl, combine the coconut, sweetened condensed milk, chopped almonds, and chocolate chips.

Scoop the cookie dough into small mounds on the prepare cookie sheets. Wet your hands with water and then shape the mounds into round cookies and slightly flatten the tops of each cookie.

Bake at 325F for 12-14 minutes until golden brown around the edges. Cool the cookies on the baking sheet before serving.