With all of the worry and anxiety that the ongoing epidemic has caused throughout the world, who wouldn't want to get away from it all and unwind in nature?
Rosie is presently doing just that, relaxing in her off-the-grid house in Coromandel, New Zealand, with breathtaking views of nature.
Rosie came across this natural wonder while hunting for a place to call home. She fell in love with the place right away and decided she wanted to make it her home. She sold her Auckland house and purchased the acreage on which she was able to construct a beautiful off-the-grid home.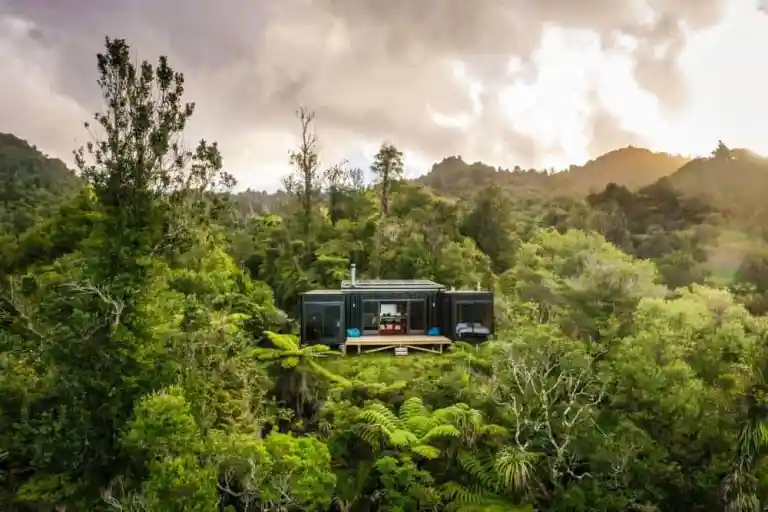 It's about taking care of nature and having peace of mind for her. Rosie didn't have a hard time deciding to go off the grid since she enjoyed the industrial style. She'd also heard great things about how durable and long-lasting container homes are.
The off-grid home is equipped with 12 solar panels and a 4-kilowatt system, as well as two 25-thousand-liter tanks and a wooden composting system. It was constructed from five 20-foot shipping containers and can easily be enlarged to accommodate a larger family.
For Rosie, being off the grid was a dream come true. It has its difficulties, but it provides her the confidence and assurance that she will be OK no matter what happens on the road.
Anyone would be dazzled by Rosie's front residence. It features a "gathering area," where people cook over an open fire and spend a lot of time together conversing and appreciating the scenery.
Rosie makes every effort to plant as much as she can in order to reap the benefits of having delicious and medicinal plants. Ahrewa, which means sacred place, is the name she has given to her house.
When you enter the main home, you will be greeted with a large, well-equipped kitchen. Rosie stated that she enjoys cooking and that she has movable cabinets that she can move around for parties. There's also a fireplace, which quickly warms up the space.
Her kitchen has all of the necessary equipment and utensils, but it is distinguished by its vibrant color. She picked orange for the wall because it represents sunrise and makes the space appear more relaxed.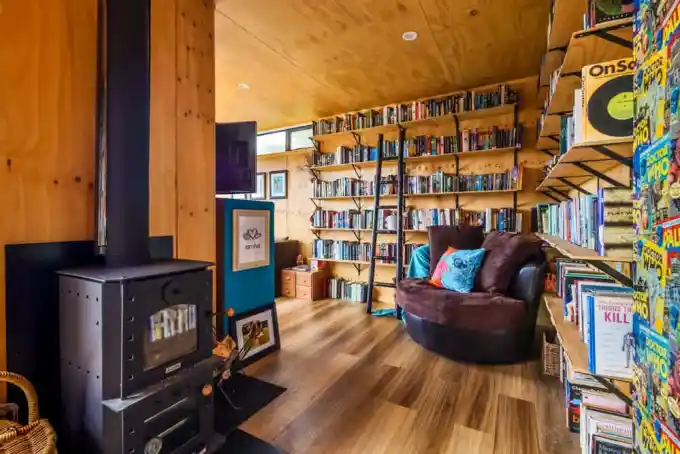 Rosie managed to build her own library in a little area after two decades of book purchasing. What's even more impressive is that she had it well-organized, with categories printed on each portion. When she's not working, Rosie enjoys curling up in her lovely reading nook.
The bathroom, which is modest but extraordinarily attractive, is located on the other side of the house. It features a toilet that flushes like a normal toilet but empties into black and gray water tanks.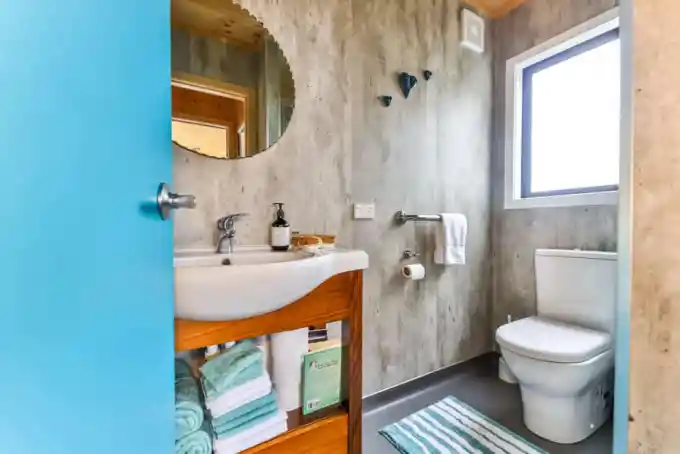 The gray water tanks from the sink and shower go to the woods, while the black water tanks go to the composting system. Rosie also chose a larger shower for when she becomes older and more frail.
A one-bedroom with magnificent panoramic views is hidden behind the bathroom. The king-sized bed is quite comfy, and it's a perfect location to cuddle while taking in the breathtaking views of nature. It's also nice to see the dawn first thing in the morning.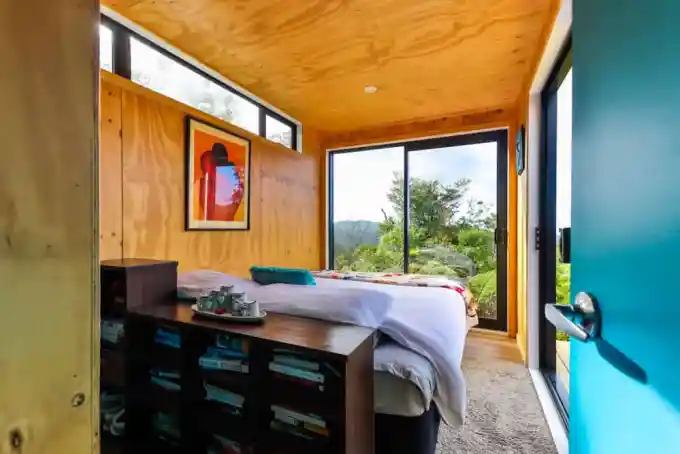 Rosie is not currently residing here full-time, but her ambition is to retire in this magnificent off-the-grid home. She also comes down here to unwind and appreciate nature as frequently as she can.
Rosie expressed her pride in stepping off the grid and planning and building the house from the ground up, as she had never done it before. She's also pleased that it came out just how she had imagined.
"Making a space of my own has been a really interesting journey because I've planned this house years ago and it's been a really lovely way for me to put myself into the house," said Rosie. 
Watch the video and be charmed by Rosie's off-the-grid container home with nature-rich views: