"'Hey my bro, I'm just wondering if I could have some money, my bro. I just want the money for some food and clothes, my bro. Thank you, my bro.'
This was the message I received two years ago on Facebook Messenger. I made the decision to respond to the sender. 'Sorry, Brian, I can't send you money directly, but how about I take you out for lunch and figure out if I can help?'
His reply, 'Can we get McDonald's please, my bro?'
A few days later, I drove over to Brian's house to pick him up, and I immediately realized that he had some sort of mental handicap. He was, however, one of the most animated persons I'd ever encountered. Brian sprung out the door, waved, and grinned before running over and giving me a warm handshake as soon as he got close enough.
'I didn't think you'd actually come, my bro. Thank you so much for coming to get me.'
Brian's continual thankfulness, which is always given with a huge cheeky smile and a personality trait he's demonstrated throughout our 2-year relationship, was my first experience with it. I knew I'd found someone significant at that time, and we headed to McDonald's.
Brian revealed during the course of our lunches, walks, and phone calls that he had grown up in the same little village as me, Paeroa, but that he now resided with his father in the bigger city of Hamilton, where I was also living.
Brian revealed that he slept every night on a one-seater couch. He said he wanted to work but didn't know how to apply for employment or where to look. He also mentioned that he was bored and lonely because he didn't have any pals.
Brian and I collaborated on a résumé for the first time. We discussed his education and preferred topics, as well as his talents and the sort of career he desired. He brought it to a few grocery stores after I printed a few copies. Unfortunately, he did not receive any positive answers.
After that, I called other possible businesses and organizations that help individuals find jobs, but we were still unsuccessful. I found that getting job as a person with a learning handicap is exceedingly difficult.
Meanwhile, I paid Brian to assist me with gardening, cleaning, and erecting a fence over the course of a few months. However, I wasn't in a position to offer Brian with jobs or pay for more than a few hours of labor per week on the weekends.
Brian was receiving the New Zealand disability allowance, which is a government-funded program that sends money into his account every week to help him with his living expenses.
I understood the allowance was rather substantial in terms of providing Brian with enough money to buy food, pay bills, and even save a little. Brian, on the other hand, constantly looked to be in financial trouble.
Since a consequence, I asked Brian if I could assist him with budgeting, as I knew he spent a lot of money on fast food and maybe other expenses that we might help him cut.
I was surprised to see that Brian was losing almost half of his weekly allotment to loan repayments and other direct debits when he shared his spending with me. Brian was perplexed by several of the payments and had no idea what they were for. He just stated that they deduct money from his account every week and that he had no idea how to stop them.
Many of these payments were made under obscure names, and I spent the next six months trying to track down the many entities that were deducting funds from Brian's account.
Brian was charged 450 percent interest on a $500 cash loan by one of the cash lending companies. After looking through Brian's bank transactions, I discovered that he had already made $420 in payments. When I arrived at the company, I discovered that his loan value had not decreased but had increased to $680 due to the massive interest.
Brian would phone the firm every week and ask if he could make a lesser payment, to which the company would agree but then add penalty interest, which Brian didn't understand.
I considered the corporation had breached its duty of care to Brian, and that a loan should not have been granted without the approval of Brian's caretaker due to his evident handicap.
They wiped off all interest payments after three visits and chats with the manager, and all Brian had to do was pay the remaining $80, which I paid to clear the account.
Brian has also been paying a product rental firm for almost 18 months. His total payments on a TV and Playstation, which had a combined retail value of over $1600, had now surpassed $2400.
Brian was paying for things he didn't have and wouldn't be able to return since a member of his family had taken the merchandise and pawned it for cash.
When I phoned the firm, I was told that Brian would have to pay the whole $1600 plus a penalty cost to terminate the contract. However, after several weeks of phone conversations, I was able to bargain this down to $100, noting that Brian shouldn't have been legally entitled to sign these contracts and that if he hadn't, I would look into other possibilities.
There was a 'truck-shop' rental firm that drove through low-income neighborhoods signing up unwitting people to product agreements like TVs, phones, and gaming consoles that appeared to be a good price but had rigorous contracts with high-interest payments and multi-year or no-end stipulations.
Brian had no idea who this firm was or what they were receiving money for at first. I couldn't find the firm on the internet or in the New Zealand company registry. After asking for help on social media, a friend of mine eventually discovered a URL that was hidden from search engines and owned by the company, along with some basic contact information.
I ultimately found out the company's private owner. Brian had been paying this firm for an 8-month period for a Playstation that had never arrived. Despite the fact that he was still billing Brian every month, the business manager claimed he didn't have Brian's address.
On top of the $800 Brian had already paid for the items, he wanted to charge Brian $400 to terminate the contract. In the end, I was able to persuade the business owner to offer Brian a $400 refund with no further fees.
Brian asked if the two of us could produce a TikTok film together around the time of the truck-shop solution. I made a video on our friendship, and he really liked it. We didn't anticipate much with only a few hundred followers and a few of prior films, but it was fun to produce together and chose the photographs and footage.
Brian suggested that we collaborate on a TikTok video around the time of the truck-shop solution. I produced a video on our friendship, which he appreciated a lot. With only a few hundred followers and a few previous videos, we didn't expect much, but it was fun to make together and choose the images and footage.
We simply wanted to tell our tale and encourage others to form "unlikely friendships." Over 1.7 million views, 345,000 likes, and 4,000 comments were received. It was really overwhelming and incredible.
Our hopes had been completely exceeded, but we had no idea that this was only the beginning. I received an Instagram message from the producer of Seven Sharp, New Zealand's Channel One news show that airs at 7 p.m. every evening, after the TikTok video garnered almost 1 million views. She'd watched mine and Brian's tale on TikTok and asked if they could record a section for their show about it.
Brian didn't stop smiling for the next week after I informed him. We were both apprehensive, but also delighted, to be able to tell our experience on television and possibly inspire other people to watch out for individuals in the community who might be in need. Filming took place only a week after the Instagram message, and it was a blast.
Brian's reporter and video team adored him, and it wasn't long before he was commanding them about! We also utilized the video as an occasion to reach out to others throughout the country to see if anyone was willing to hire Brian.
The show aired the next day at 7 p.m. on New Zealand's national television, and we watched it with our friends and family. It felt unusual to see myself on television, and everything looked bizarre. Brian grinned for another week and began presenting himself as 'the guy from TV' to family, friends, and strangers alike.
Brian must have seen our show a hundred times, but it turns out he wasn't the only one who liked it. The episode went on to become their most popular Facebook story, with hundreds of thousands of views and tens of thousands of shares, comments, and conversations.
Around the next two weeks, we received five real job offers from all over New Zealand, but one stuck out above the others. Brian was given a position with 'The Greenways Trust,' a social business in New Zealand's northwestern region that provides full-time work to individuals with a variety of impairments.
Brian would be free to work short days and even take vacations as needed, but he would be splitting and transporting firewood, mowing lawns, and picking kumera (New Zealand red potato). Brian would also have his own self-contained cabin with a full ensuite and a breathtaking outlook.
His lodging would include all three meals each day, transportation to and from work, and housekeeping assistance. To top it off, he was joining a group of pals who were all participating in social activities, group excursions, and regional special Olympics events.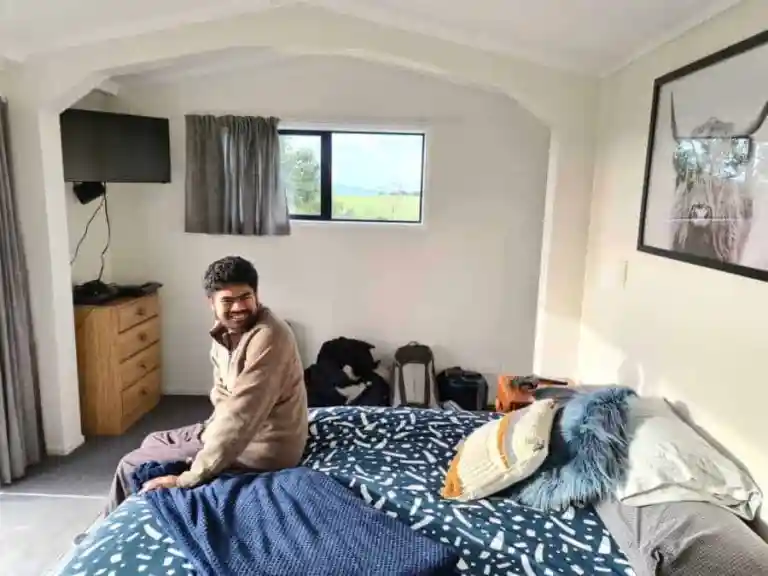 Brian was ecstatic to be moving, and despite some resistance from his family, he was ultimately seated in the passenger seat next to me, on his way to the Greenways Trust. I surprised Brian with a shopping trip on the way up to the Trust and purchased him an entire suitcase full of new clothing to take with him. He said that it was the first time he had ever purchased new clothing.
We arrived to Greenways Trust to greetings and grins from everyone, and just ten minutes, I knew it was the right location. Brian's life at the Trust was a significant shift, but he immediately made friends with everyone.
For the first time since meeting Brian, I wasn't bombarded with texts and phone calls. Brian was no longer in financial distress, unable to eat and clothe himself, and, most significantly, he was no longer lonely.
After our story on Seven Sharp drew such a large audience, Brian and I were requested to do not one, but two follow-up stories, which aired over the next few weeks. As a result, we were able to publicize the Greenways Trust's excellent work as well as share more of our personal experiences. We were on national television three times, with one news commentator remarking that Brian had had more coverage on their show than New Zealand Prime Minister Jacinda Ardern!
Over the next several months, I got many letters and phone calls from people who had discovered others in their community in similar situations to Brian's and were now assisting them. People informed me about how they had met new acquaintances, found new jobs, and started new businesses.
I formed a disability awareness network at the firm where I recently started working (KPMG New Zealand), and Brian was invited to appear as the first guest speaker. I'll be questioning him in front of over 150 people, and I'm confident he'll make everyone laugh.
From a Facebook message from a stranger to a friendship. From a TikTok video to three national television spots. We've learned a lot over the last two years, but if I had to sum it up in one word, it would be compassion."
About the author:
This story was published here with permission from the author, Jack Keeys. This story first appeared on Love What Matters