Tom Hanks is regarded as one of Hollywood's most iconic performers, having millions of admirers all over the world. Hanks, on the other hand, has only eyes for Rita Wilson, his 33-year-old wife.
In the early 1980s, Hanks and Wilson met on the set of the comedy Bosom Buddies. They later starred together in the film Volunteers. Hanks was still married to his college sweetheart, Samantha Lewes, at the time, but he told GQ Magazine that there was an instant spark between him and Wilson, according to Good Housekeeping. He said, "Rita and I just looked at each other and—kaboing—that was that. I asked Rita if it was the real thing for her, and it just couldn't be denied."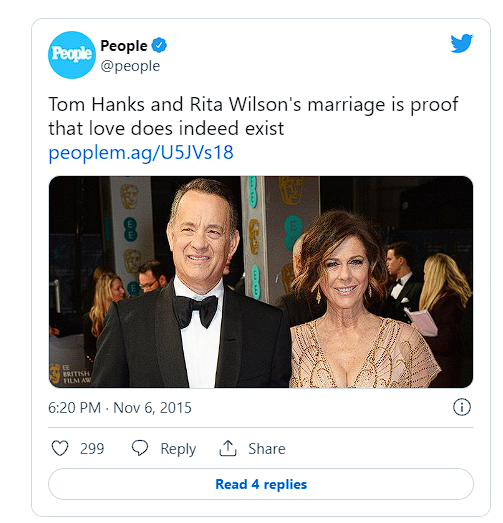 The couple, however, were unable to act on their early affections for one another. Hanks revealed that his marriage to Lewes had already broken down at the time. He told Express UK, "I was looking for something I had not found as a kid. And a broken marriage meant I was sentencing my own kids to the sort of feelings I had at their age. I was just too young and insecure for marriage."
After his divorce with Lewes, he recognized he couldn't suppress his affections for Rita any longer. Consequently, despite the fact that his divorce was finalized in 1987, he and Wilson had made their romance public by December 1986. Tom married Rita in April 1988, and the two have been together ever since.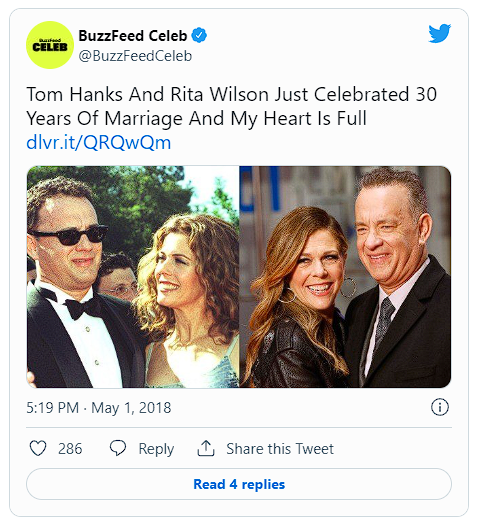 Hanks said during his first Oscar speech in 1993 for Philadelphia, "I could not be standing here without that undying love that was just sung about by, not Bruce Springsteen, but Neil Young. And I have that in a lover that is so close to fine we should all be able to experience such heaven right here on earth."
"I view my wife as my lover, and we have a bond that goes beyond words like wife or girlfriend or mother," Hanks told Oprah in 2001. "The success of our relationship was a matter of timing, maturity, and our willingness to have an intimate connection." He further said, "In real life, our connection is as concrete as me sitting here. Not that marriage doesn't come close to being hell in a handbasket sometimes. But we both know that no matter what, we'll be with each other—and we'll get through it."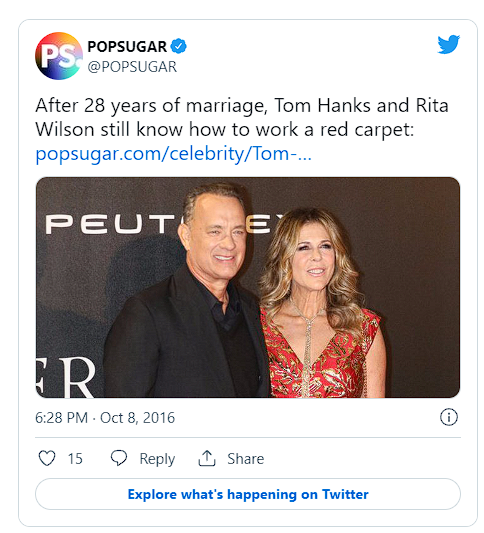 Hanks remained by Wilson's side during her recovery after she was diagnosed with breast cancer in 2015. She told New York Times, "You never know how your spouse is going to react in a situation like this. I was so amazed, so blown away by the care my husband gave me… Who knew it would make you even closer?"
She also spoke to US Weekly about her marriage that has lasted over three decades. She said, "We got married, we committed to each other, we love each other and we work hard at our relationship. … Not only do we love each other, we really like each other, and we like being together, and we support each other and we keep the communication channels open. That's always important."