Shaquille O'Neal's generosity may be the only thing that keeps his basketball success from being overshadowed. The retired athlete recently did something unfathomable for a family of nine children: he tipped a struggling server.
Shaquille O'Neal's genuine friendliness is something Karissa Collins will never get enough of. She and her husband have a lovely family of nine children, which is no easy feat. Every day, mom and dad must expend considerable labor simply to ensure that everyone has both shoes on the proper feet!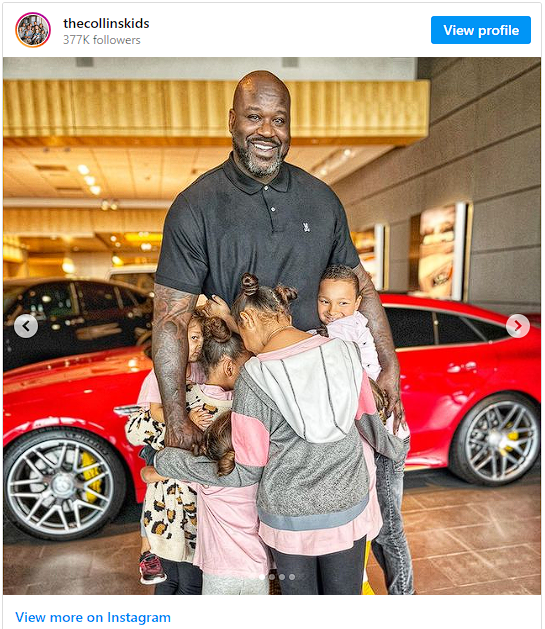 Shaq stumbled across the enormous, loving family online just a few months ago thanks to their Instagram account, The Collins Kids, which has almost 400,000 followers. He contacted the lovely couple over Instagram and gave them a customized video. He expressed his desire to meet them and that he enjoyed viewing all of their videos. AND to refer to him as Uncle Shaq!
Mom Amazed By Shaquille O'Neal Kindness
Shaq paid them another visit and brought them out to dinner just a month after they first saw him in person. He not only paid for the family's meals, but he also paid the cost for another table. That table turned out to be a missionary group from out of state in the region!
And, because the man can't get enough of giving back to the community, he left a $1,000 tip for their waiter. That was going to assist her in repairing her automobile, which had recently broken down.
After only a dinner, he wasn't through blessing the family. Shaq drove them to a Mercedes dealership to replace their overcrowded and run-down 12-passenger van. The family was able to acquire a 15-passenger vehicle that is more suitable for their requirements.
There was apparently still more Shaquille O'Neal goodness to be had. He went to Ford and bought them a new truck after observing Karissa's husband's truck was old and difficult to heat and cool.
In the adorable post about Shaq's visit, Karissa said, "He also spent time encouraging us and loving on our children and speaking life into our family. I am completely lost for words." You and me both. He's an all-around amazing guy!
Even if we don't have the resources that Shaq does to give back to God's children, we can promote love and kindness. There is no such thing as too much of either, and who knows? To a stranger, your generosity might be worth a million dollars.