Many people in the United States differ on how servers are compensated. Instead of being paid a decent salary, they frequently rely on gratuities from customers to make ends meet. Many restaurants either include a gratuity automatically or publish suggested tip amounts at the bottom of the bill, which are generally around 20%. A $4 gratuity is usual if your bill is $20. The vast majority of diners choose one of these selections without giving it a second thought. Customers filed a complaint against the Cheesecake Factory in 2017 after learning that the restaurant calculated gratuities based on the overall price rather than each individual's portion. (1)
The Lawsuit Against How The Cheesecake Factory Calculated Tips
Marcel Goldman had supper with friends at the Cheesecake Factory in 2017. They divided the cost at the conclusion of the dinner, much like many other parties do while dining out. Each member of the group was responsible for their own food. He chose one of the suggested gratuities when he went to pay his half of the bill and went on with his night. He returned to the bill later, though, and saw that the tip was extremely large — over double the customary proportion for a gratuity.
Goldman's share of the bill came to $38.50. The suggested tip amounts, on the other hand, ranged from $11.50 to $16.94. (supposedly 15 to 20 percent of the bill). However, some simple calculation indicates that these proposals account for between 30 and 44 percent of his total bill. Instead of his own bill, the Cheesecake Factory computed the suggested gratuity based on the overall amount of his party.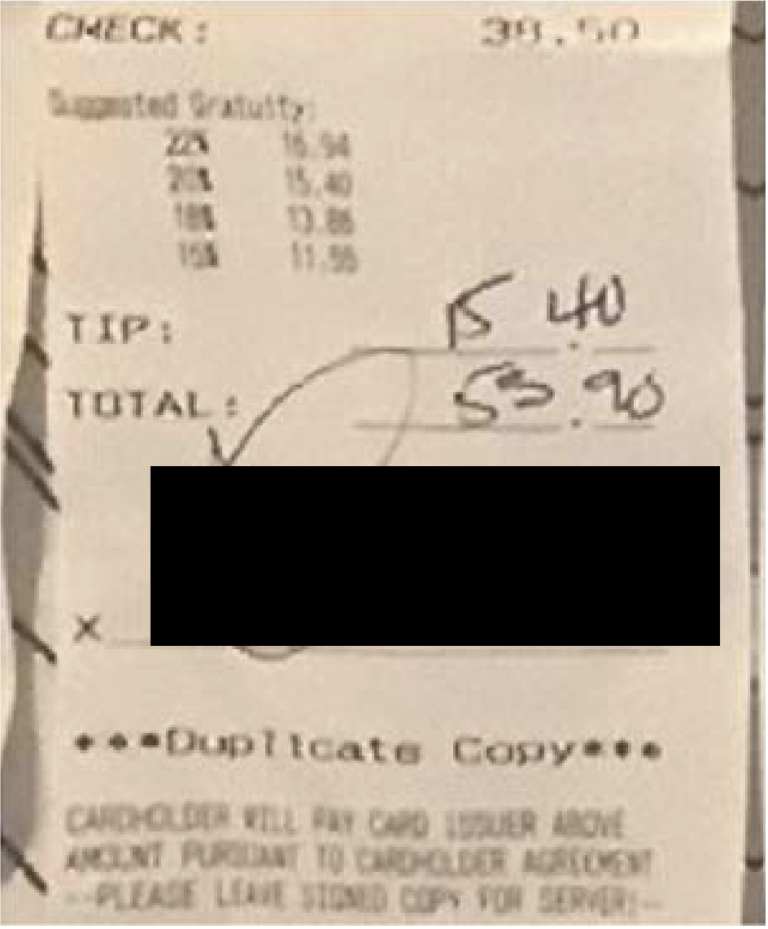 The Cheesecake Factory had been doing this for at least four years, according to the lawyers assisting Goldman with the complaint. The objective was for the restaurant chain to reimburse all guests who were overcharged during the tipping procedure at the time.
"Consumers should be aware," Goldman's attorney Julian Hammond said. "Why are we left to our own devices to do arithmetic acrobatics when the suggested gratuity represented is not true? The mathematic calculation is misleading. It must end; it needs to change." (2)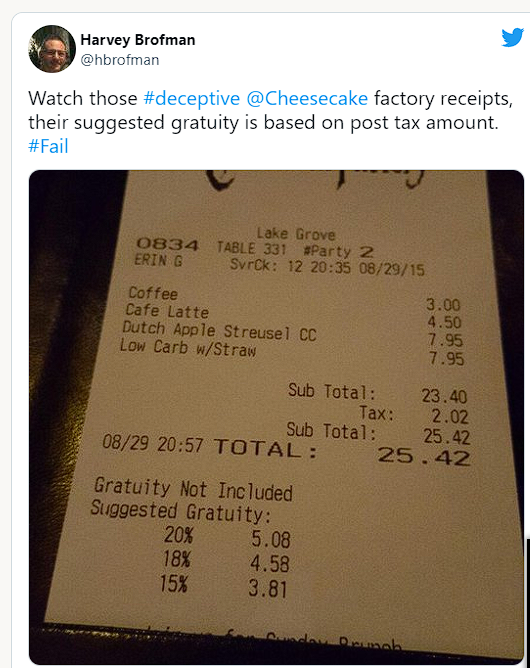 The Cheesecake Factory's Response
As one might assume, the corporation denied any misconduct and vehemently refuted the claims brought against it.
"​All gratuity amounts listed on our guest checks are suggestions only. Guests are free to tip as they please. We believe our guests appreciate service provided by our hardworking staff and tip accordingly.​"​ the company said in a statement. (3)
The outcome of this litigation is currently unknown. That so, it's a good reminder for all of us to compute gratuities manually rather than relying on the automatic calculations done by eateries.
Sources:
"Why You Should Look Twice At The "Suggested Gratuity" On Your Restaurant Bill." Buzzfeed News. Venessa Wong. August 11, 2017.
"Cheesecake Factory Customers Say They Were Duped Into Leaving Big Tips." Consumer Reports. Ashlee Kieler. August 11, 2017.